There's a lot that's slick and cool about Office 2013, from its snazzy welcome screen to the buttery smoothness of the way windows resize and open.
But my focus is on its usefulness as a tool for business communications – both presentations and documents. And I'll limit my review to those features.
1. Defaults to 16:9 aspect ratio (widescreen). As soon as you open a new file, you'll find it defaults to a 16:9 aspect ratio – fine for cinematic presentations. But not ideal for business presentations.
Why? First, it encourages people to put even MORE information on a slide when the beauty of PowerPoint is that it forces conciseness and brevity on its author. Second, because slides are often printed out as handouts or reading material – and it's more common to find printers with letter-size paper than legal-size.
You can change the slide size in Design > Slide Size
2. Outline View is now hidden.  In PowerPoint 2010, the left window showed the Slide View and another tab with the Outline View. The Outline view is very handy for quickly creating PowerPoint slide titles (see this video). In 2013, Outline View is gone, probably to clean up the screen. This is a mistake. Outline View is a very useful, if underutilized, feature.
You can still find Outline View in View > Outline View
3. Inserts Online Images. In addition to adding clip-art and images from Office.com, now you can insert images directly from Bing Image Search. Even better, you can limit your search to Creative Commons images – images that are free to use, with some restrictions.
But this feature is too limited in its current form, for a number of reasons
The search results window is very thin – you can only see about 5 pictures at a time. You can resize that window but the default should be a large window showing search results, or there should be a prominent button saying "expand window".
The license rights are misleading – Bing returns pictures with a Creative Commons license. But many of these pictures are NOT approved for "commercial use". An internal business presentation or a sales presentation to customers is, arguably, a commercial purpose. You will need to visit each website where the picture was found to double-check the licensing rights
So, a good idea but not an improvement over the alternatives. I prefer to use compfight.com, Google Image Search (choose license type in "Advanced Search") and other tools for locating commercial Creative Commons photos.
4. Cropping. The new cropping tool is missing something. It used to be that when you were cropping an image to fit the slide, the cropping tool stopped automatically at the slide edge. Now, there's no indication you've hit the slide edge.
5. Eyedropper tool. There's a slick new eyedropper tool, located in the Shape Fill and Text Fill drop-down boxes. It allows you to pick up a color from anywhere on your slide and apply it to other shapes or text. So, if you want your slide title to be the same cherry red as the Ferrari in the slide photo, you select your text, open the Text Fill window, select the eyedropper tool, click on the red Ferrari and voilà – now your text is the exact same red.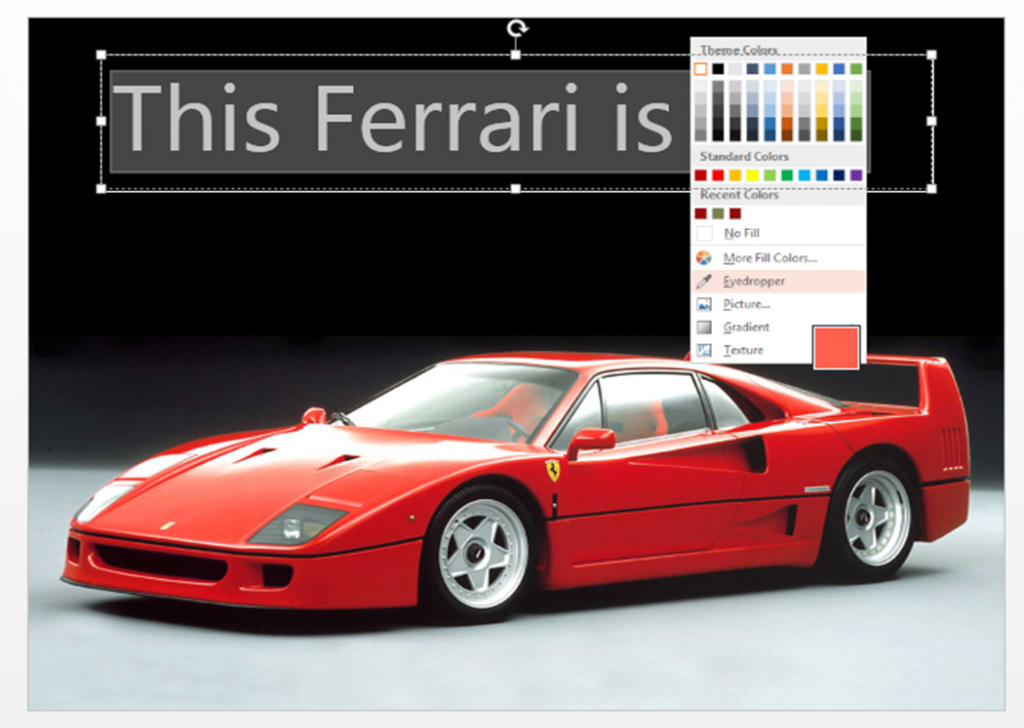 There are some limitations to the eyedropper tool. It only picks up colors from that slide and not from, say, a website or another application. You will need to take a screen capture and paste it into PowerPoint to sample those colors. Or, just use a free tool like ColorCop.
6. Improved motion paths. I do love the new motion paths, which add a shadowy image showing where the animated shape will end up. This is a huge improvement over 2010, where it just showed where the path ended and you had to experiment and keep refining to get the image to end up in a certain location.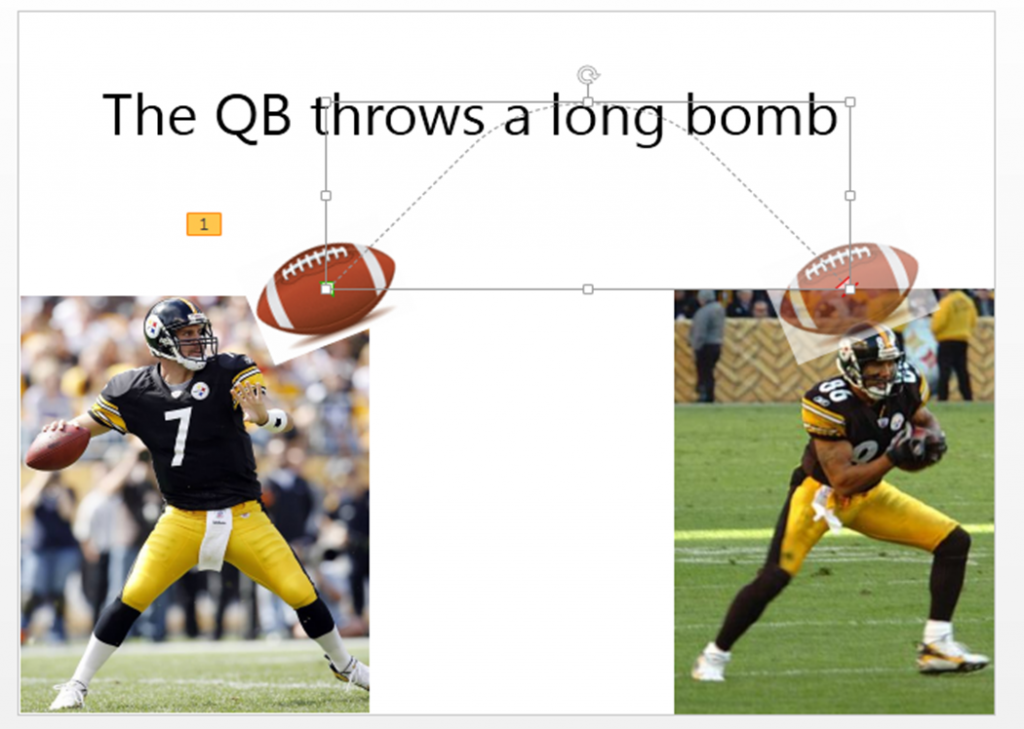 7. New Presenter View with Zooming and Panning. Presenter View has a slick new web 2.0 interface that is a vast improvement over the homely Presenter View in PowerPoint 2010.
But the most important new feature is the ability to zoom in on a place on the slide, and then pan around the slide in that zoomed-in mode. This is incredibly useful feature but it has some baffling limitations.
First, the zoom happens almost instantly – it's not a smooth, slow zoom but head-snappingly fast. In addition, you can't adjust that speed, nor the size of the zoomed area, which covers about one-quarter of the slide. You can't zoom in a second time. So, a useful feature but curiously limited to pretty basic functionality.
8. More Presenter View features. Like in PowerPoint 2010, Presenter View has a timer so you can determine how long your presentation takes. But now it has pause, resume and restart buttons, to give you more control over the timings. In addition to the pen and highlighter tools found in PowerPoint 2010, you'll now find a laser pointer tool, which directs the eye with a bright red point of light.
9. Better shape tools. I'm not a fan of the shapes and diagrams drawn by PowerPoint 2010 because of the inelegant look of their thick dark lines. The new PowerPoint produces more elegant diagrams and shapes, with thin light lines.
There's also a new tool for combining shapes – the "fragment" tool. It shatters two or more shapes into smaller shapes based on where they overlap.
10. Better (and Worse) Charts. For me, the biggest changes was in the charts. And the changes were not always improvements.
a. It's easier to create combo charts, like a line chart overlaid on a bar chart with its own y-axis. This was clunky to do in PowerPoint 2010 but now there's a specific menu item for creating combo charts.
b. Better looking graphs. Instead of the forceful fruit salad colors in PowerPoint 2010, the new 2013 creates charts with less saturated colors. It also uses lighter gridlines, smaller fonts for the x- and y-axes. Even the handles around the chart, used to resize and move it, are slimmer. Overall, the graphs just look simpler and more elegant.
c. Gap widths is a mixed bag. Side by side column charts are created with slight gaps between the bars, improving their aesthetics and readability. But all  other charts are unchanged from PowerPoint 2010, with no gaps at all or overly large gaps.
d. There appear to be more features available for graphs. Every time you create a graph, or select a graph, a rich menu of options opens on the right. I don't know if this is good or bad. On one hand, it gives you easy access to manage the location of the legend, the graph title and background fill. On the other, it tempts you into adding drop shadows and pattern fills. I did not have time to explore all these options, and they feel a bit overwhelming, but overall I'm more concerned than impressed.
e The Excel window that holds your chart data is smaller. When you want to edit your chart data, a small sliver of a window opens. I preferred when that window took up my whole screen, so I could see the data without distracting programs in the background. In addition, only ONE Excel window can be open at a time. I am in the habit of grabbing data from one Excel window and pasting it into a second Excel window. So, I was disappointed to discover another limitation.
f. It takes MORE CLICKS to find the chart type you want to create. In PowerPoint 2010, when you clicked Insert > Chart it opened a window with all your chart options. In 2013, it only shows a few chart types at a time. You have to click several times to navigate to the chart you want.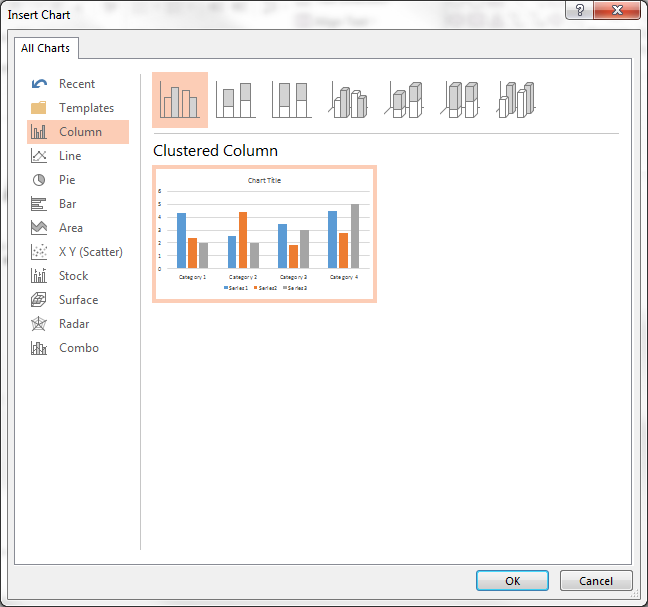 This review is based on the PowerPoint 2013 preview so I hope when it's finally released some of these limitations will be lifted. I'd especially like to see improved control over the zoom function in Presentation View.
If having a slick and cool new interface is important to your business, the upgrade may be worth it. I was impressed with the web 2.0 color palette and the seductive way that windows opened, slid around and resized with a light bounce. But based only on the new functionality I see in the software preview, I would pass on the upgrade. There are other tools to accomplish many of these tasks.
About the author: Bruce Gabrielle is author of Speaking PowerPoint: the New Language of Business, showing a 12-step method for creating clearer and more persuasive PowerPoint slides for boardroom presentations. Subscribe to this blog or join my LinkedIn group to get new posts sent to your inbox.