Will Prezi overthrow PowerPoint as the King of the conference presentation? Online buzz says Prezi is hot and PowerPoint is tired.
But a recent survey among meeting and event planners tells a different story. In fact, these industry experts said PowerPoint was a MORE satisfying presentation software to work with. Importantly, there were 10 times as many event planners who expressed an opinion on PowerPoint versus Prezi – another indication of its dominance.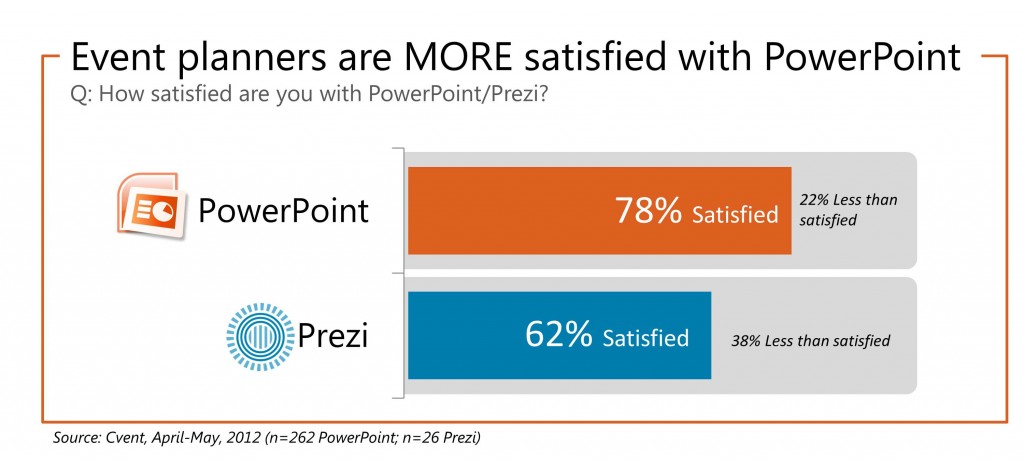 What's missing from this is research with PRESENTERS and AUDIENCES. Does anyone know if this exists?
I personally see value in Prezi for some types of presentations where the goal is to wow the audience, or for educators who practice whole-part-whole learning. But I don't see Prezi as a PowerPoint killer for most business presentations which need to be shared internally, or printed and read as handouts. More likely, Microsoft will add zooming and panning features to PowerPoint and close the gap.
About the author: Bruce Gabrielle is author of Speaking PowerPoint: the New Language of Business, showing a 12-step method for creating clearer and more persuasive PowerPoint slides for boardroom presentations. Subscribe to this blog or join my LinkedIn group to get new posts sent to your inbox.