Software Programmer and Entrepreneur Michael Heinrichs has a great idea – an online tool to help you map out your presentation. It's called SketchHatch and it lets you quickly sketch out sticky notes and move them around in your browser to brainstorm and order the content of your presentation.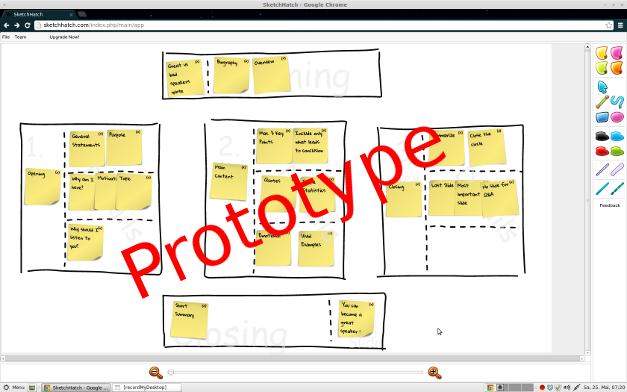 I played around with the tool and found it a real joy to work with. There are some great features:
Attractive user-interface with "hand-drawn" look and feel. It feels like working on a whiteboard, not inside a computer program
Create sticky notes easily, drag-and-drop to move them around
Different color sticky notes. In my workshops, I teach people to have a mix of logical and emotional evidence in your slides. You could use yellow sticky notes for logic and pink sticky notes for emotion as an additional planning aid
Different backgrounds for planning a story, planning a project, etc
I'm pretty excited about SketchHatch because I've looked for something like this online in the past and was only able to find really fugly applications or applications that were tedious to use. I've often thought we needed an online sticky notes website/app – and even thought about developing it myself!
Michael's vision is to have this completed by December 2013 and he's looking for donations to help with the funding. Even $1 is welcome!
About the author: Bruce Gabrielle is author of Speaking PowerPoint: the New Language of Business, showing a 12-step method for creating clearer and more persuasive PowerPoint slides for boardroom presentations. Subscribe to this blog or join my LinkedIn group to get new posts sent to your inbox.