Trump was narrowly defeated in Iowa, where he was the favorite just days before the election. Cruz won (some say "stole") and Rubio surged into a breathing-down-your-neck third place. The actual vote was quite different than the polls predicted. What happened?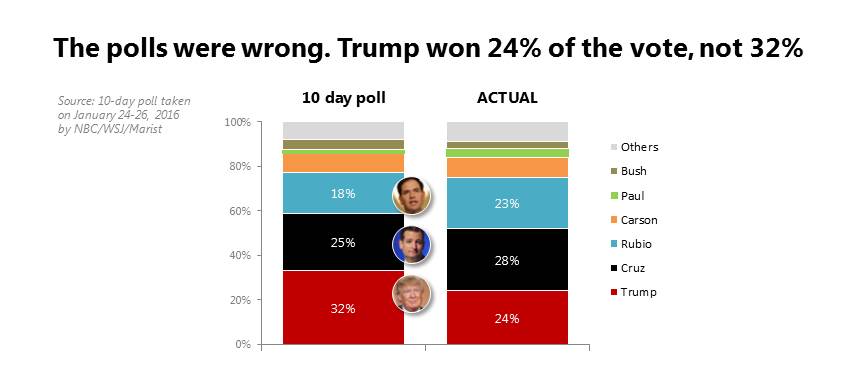 This is an important question because if the polls were wrong about Trump winning Iowa, could they be wrong about Trump winning in New Hampshire, and perhaps even the GOP presidential nomination?
One part of the explanation is late-deciders, those voters who don't make a decision until the week before the vote, or even the day of the vote. Oh, if a researcher calls and asks who they favor, they will give an answer. But some are not committed to that answer all the way through to the voting booth. They change their minds.
Surveys find anywhere from 25% to 45% of voters are still undecided a week before they vote. In 2012 entrance/exit polls (NY Times, CNN), researchers asked people as they were going into the vote (or leaving) "when did you make your decision?". On average, 32% of voters made their decision THAT WEEK.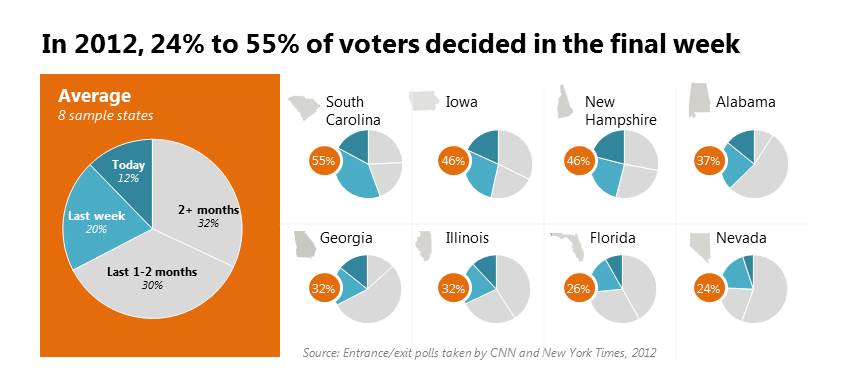 Yikes! So there are a lot of people who answer polls months before they vote, but don't stick with their choice on election day. They don't decide until the last minute.
In Iowa, we see that nearly ONE HALF of voters didn't make their choice until the week before the election. And the later they decided, the less likely they were to vote for Trump. Instead, they tended to favor Rubio (28%) and Cruz (22%). Of those who decided in the last week, only 15% selected Trump.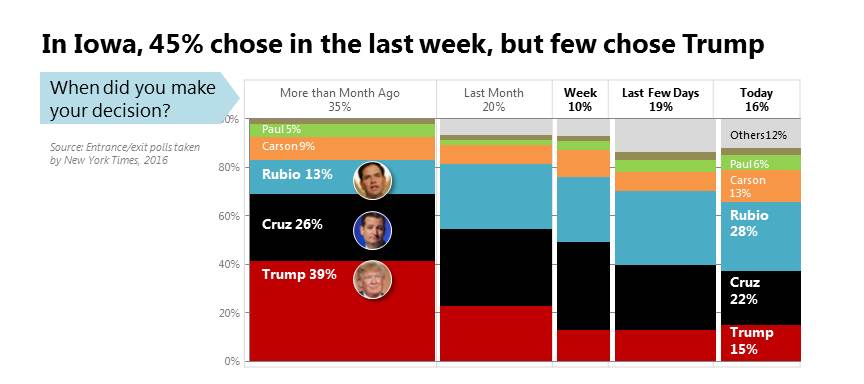 That makes sense, doesn't it? Many studies found the people who supported Trump were also the most convicted. Trump recently bragged he could shoot someone and not lose his supporters. One CNN reporter quipped "If Donald Trump punched a baby in the face, Trump's supporters would say that baby had it coming." But that also means if you weren't swept up in Trumpomania three months ago, you aren't likely to be swept up on voting day.
We saw the same thing in 2012. Ten days before the Iowa caucus, polls had Rick Santorum at just 8%. But he surprised with 25% of the vote! That's, in part, because 39% of voters were undecided until the last minute. And among those undecided voters, 35% chose Santorum.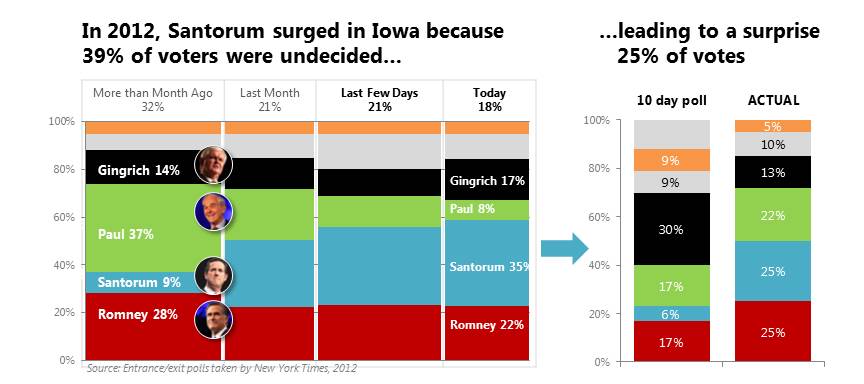 The undecided voter will play a bigger part in the Republican race than in the Democratic race. We see that the polls were very accurate for Bernie and Hillary. But we also see that only 20% of voters were undecided heading into the Democratic caucuses. Again, this makes perfect sense. There are only two candidates, so it's easier to differentiate their personalities and policies. And they are relatively divisive personalities. You either love or hate Bernie's socialist ideas. And you either love or hate Hillary's brash style. Nearly 60% had made up their minds several months ago!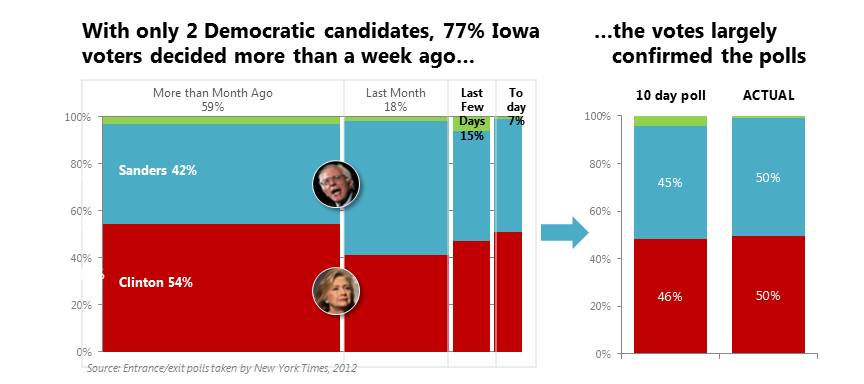 But it's different for the Republicans. There are still 8 strong candidates duking it out, and it's not so easy to distinguish their differences. You are likely to stay undecided longer and vacillate up to voting day. But as candidates drop out and it's easier to distinguish the remaining candidates, voters will rally behind Cruz and Rubio – not Trump.
A Feb 4, 2016 survey by Public Policy Polling found that in a 3-candidate or 4-candidate race (Trump, Cruz, Rubio, Bush – strangely, they didn't include Carson) voters rally behind Marco Rubio and vault him ahead of Trump.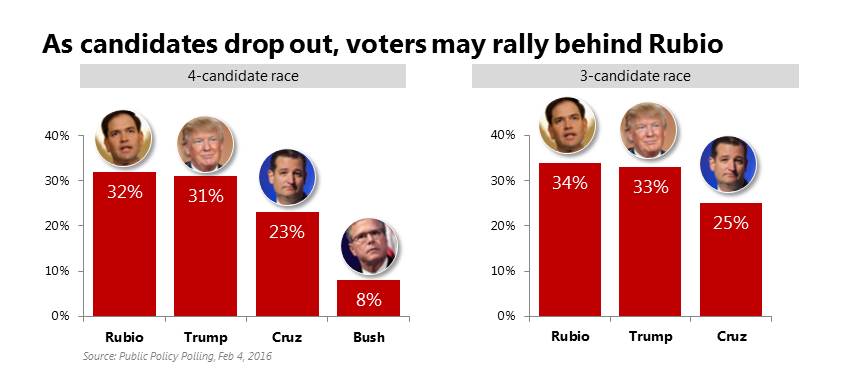 And that's one problem with the polls over the past several months: asking someone to choose among 14 candidates. That's not how the primaries will play out in the coming months. Candidates will drop and we'll be asked to choose from three or four candidates, not 14. Of the 8 remaining candidates, we'll see more drop out after disappointing results in New Hampshire — probably Fiorina and Christie.
Those who remain will face a budget crisis – it's expensive to keep campaigning beyond New Hampshire. Christie and Kasich each have less than $5 million in the bank (compared to $50 million for Cruz and $25 million for Rubio). Ben Carson recently slashed half his staff because of dwindling funds. Donors don't like to keep spending money on a long shot. By mid-March we'll be down to three or four candidates.
What does this mean? It means the January polls are not going to be good predictors of the Republican primary results. There will be a lot of people deciding on the last day. And those people not already committed to Trump won't be easily swayed on the day of voting.
As the field winnows down, voters will migrate to the remaining candidates – likely Rubio and Cruz – and not the Donald.
New Hampshire will be a critical battleground. Trump has a commanding lead in the polls (29% vs 12% for both Rubio and Cruz). But in 2012, 46% of voters decided the week before the primary elections and all indications are that it will be similar this year.
Paul, Huckabee and Santorum have already dropped out, thinning the field – where will their supporters go?  Independent voters in New Hampshire can choose to vote in the Democratic or the Republican contest, further clouding where the votes will land. Strong showings by Cruz and Rubio in Iowa are likely to sway undecided GOP voters to put their votes "where they will count". In fact the latest poll shows Rubio is up to 19% (Trump is still at 29%), illustrating the effect of the late deciders.
Trump will still be a formidable candidate throughout these primaries. But I expect undecided voters will put their weight behind Rubio and Cruz, especially as the field thins, and Trump's results will be lower than the polls predict in most states. Come back later to see if I'm right.
And if you like my graphs, look for my new book "Storytelling with Graphs", which shares all my secrets for analyzing data, choosing and designing graphs, and even using storytelling principles to make graphs more engaging. It should be released early this year.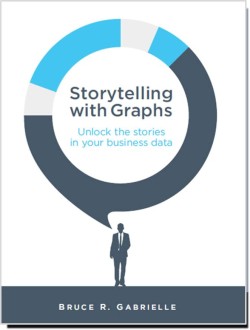 About the author: Bruce Gabrielle is author of Speaking PowerPoint: the New Language of Business, showing a 12-step method for creating clearer and more persuasive PowerPoint slides for boardroom presentations. Subscribe to this blog or join my LinkedIn group to get new posts sent to your inbox.