Trump is on a high after winning 7 states on Super Tuesday and now leads the GOP race. But does he have enough momentum to win 1,237 delegates?
Actually, he doesn't. Look, he only won 42% of the delegates on Super Tuesday while Cruz won 37% – pretty close. In 2012, Romney won 54% of the Super Tuesday delegates. In 2008, McCain won 57% of them. In fact, Trump only won 34% of the popular vote compared to Romney's 41% in 2008. So Trump doesn't stack up too well with recent history.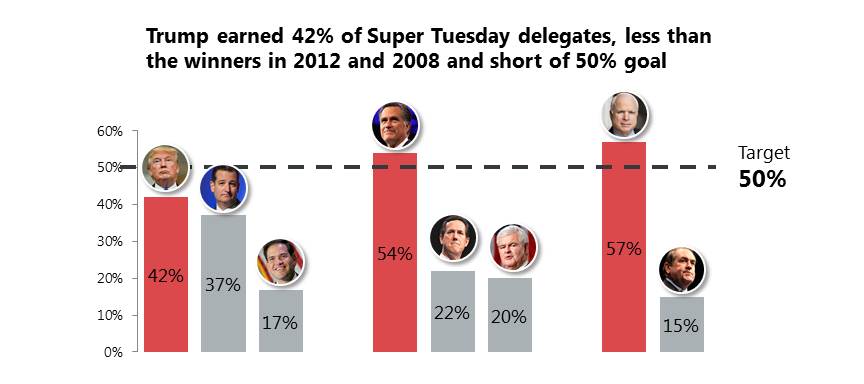 And Trump currently has 46% of all delegates, still shy of the 50%  he needs to clinch the nomination. But in 2012, Romney held 50% of all delegates by Super Tuesday, and in 2008 McCain held 54%. Trump does not have the same momentum Romney and McCain had with GOP voters.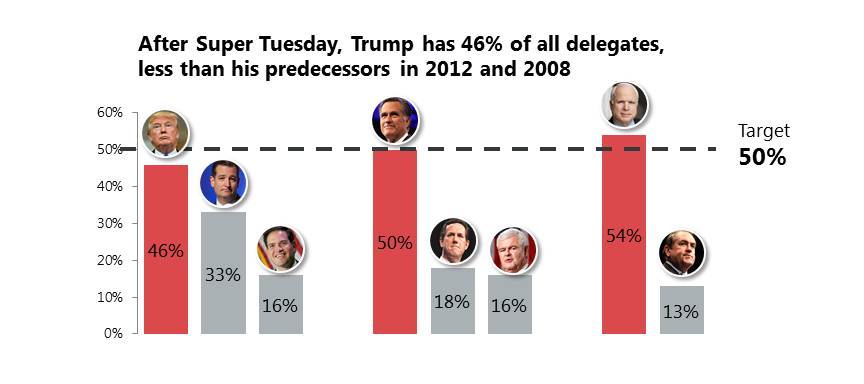 In fact, Trump has proven to be very beatable. He does well in states that hold open primaries, where Independents and Democrats are allowed to vote in the GOP race. He's won 10 of 11 times there (4 by just a few percentage points). But in states that hold closed primaries or caucuses, where only registered Republicans can vote, Trump is only 1 for 5.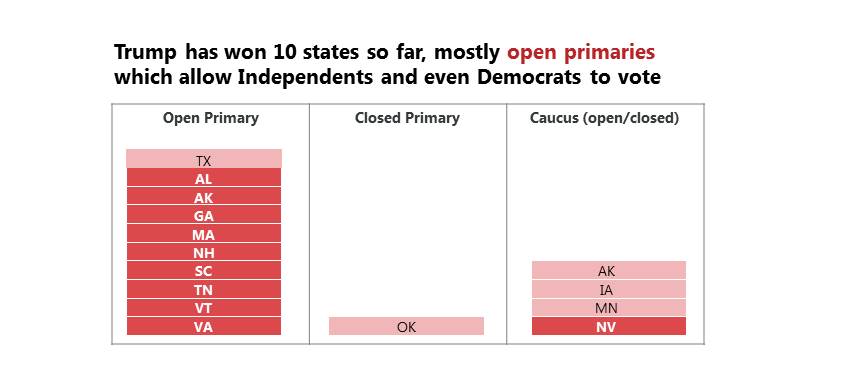 There are 1,682 delegates left in 8 caucuses, 17 closed primaries and 14 open primaries. If Trump continues to do well in open primaries, including winning key winner-take-all states, but not in closed primaries or caucuses (even winning Florida and Ohio), I project he will fall short of the 1,237 goal. In fact, 3 delegates from each state are "unbound" and can elect to vote for whichever candidate they want at the Republican convention.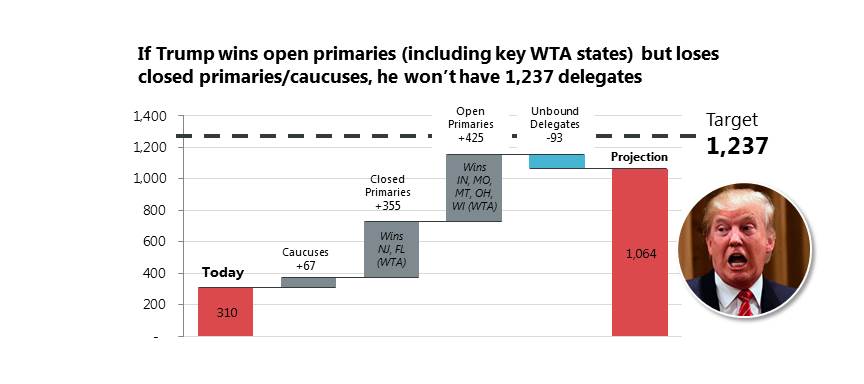 So, it appears Trump simply doesn't have enough momentum to propel him over the 50% goal line. This will end up a brokered convention and we might even see Jeb! Bush and Scott Walker back in play. Tune in to see if my projections were right.
And if you like my graphs, look for my new book "Storytelling with Graphs" due out later this year.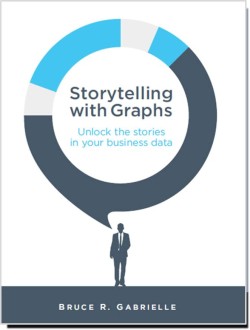 About the author: Bruce Gabrielle is author of Speaking PowerPoint: the New Language of Business, showing a 12-step method for creating clearer and more persuasive PowerPoint slides for boardroom presentations. Subscribe to this blog or join my LinkedIn group to get new posts sent to your inbox.