After Super Tuesday 2.0, Trump looks like the runaway leader with 673 delegates – 260 more than his closest rival Cruz. Does this mean Trump is the most likely nominee? Or does Rubio's exit from the race now make Cruz the most likely nominee?
Interestingly enough, there's a higher chance Cruz will end up with more delegates than Trump at this point. But it all hinges on what happens in Arizona and Utah on March 22.
Utah: Cruz May Take it All
Utah will be a closed caucus, where Trump tends to lose. February polls show Trump with only 18% support behind Cruz (22%) and Rubio (24%). If the caucus winner gets more than 50% they will win all of Utah's delegates. Utah also has a large Mormon population and is a big Romney supporter, and Utah is where Romney announced his anti-Trump campaign.
The polls were taken way back in Feb 10-15, when Carson, Bush and Fiorina were still in the race, and a lot has changed since then, but the writing is clearly on the wall: Utah is no fan of Trump. All indications are Cruz will win Utah, and may even pass the 50% hurdle and take home all 40 delegates.
Arizona: Could Go Either Way
In Arizona, Trump leads the polls with 31% vs 19% for Cruz, 10% for Rubio, 10% for Kasich and 30% undecided. Looks like a sure Trump route, right? But 10% of voters supported Rubio. Where will they vote now? Two studies found that about 50% of Rubio's supporters would vote for Cruz and 13% would vote for Trump. If we re-allocate Rubio's supporters, the polls are more like 32% Trump, 24% Cruz and 13% Kasich. So Rubio dropping out will help Cruz more than Trump.
30% are undecided. But from exit polls we know that late-deciders generally don't go for Trump. On average, 25% go for Trump and about 50% go for Cruz. That means the polls will be 39% Trump, 39% Cruz. It will be a hotly contested contest in Arizona and could go either way.
New Delegate Math
If Cruz wins both Arizona and Utah, the delegate counts will be Trump 673, Cruz 509. With 969 delegates remaining, Trump will need to win 58% and Cruz will need to win 75% to amass 1,237 delegates. Both will be a stretch. Kasich is the wild card, siphoning off the anti-Trump supporters.
Now, there's still some wiggle room because there will be about 150 delegates from various state conventions and caucuses who are "unbound" and able to vote for any delegate, so Cruz and Trump will be angling for them to help them over the finish line. And even among the delegates each candidate has won, many of those candidates are "unbound" and don't have to vote for the candidate who won them. We also don't yet have all the delegates counted from Missouri and Illinois.
But here's the fun part – Cruz doesn't have to get 1,237 delegates. He just needs to get more than Trump, or close enough to make the argument. For instance, if Trump finishes with 1,050 delegates and Cruz finishes with 1,010, Trump can't really argue that he deserves the nomination because he has the most delegates. Both candidates fell short but they were basically tied.
Let's assume Kasich wins 50 of the remaining 969 delegates (5%). If Trump and Cruz split the remaining delegates, Trump will end with 1,100 delegates and Cruz with 920. If Cruz wins 56% of the remaining delegates, he and Trump will tie at 1,049 delegates.
Anything over 56% and Cruz will have more delegates than Trump. And 56% is not a stretch if you assume Trump's support is capped at about 40% and Cruz can win most of the remaining winner-take-all and winner-take-most states.
Rubio and Kasich Delegates
If Cruz and Trump enter the convention about 200 delegates short of the majority, now they can start negotiating with the unbound delegates, which may or may not be enough.
Rubio and Kasich delegates are bound to them for the first round, but not the second round. If they still can't get to a majority in the first round, in the second round they can look for Rubio or Kasich to support their candidacy and encourage their delegates to vote for one of them. Look for Kasich or Rubio to use their delegates as leverage for the vice president nomination.
And if you like my graphs, look for my new book "Storytelling with Graphs" due out later this year.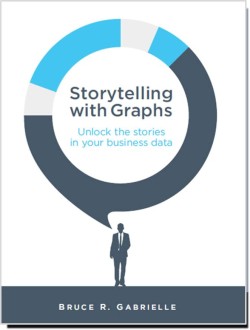 About the author: Bruce Gabrielle is author of Speaking PowerPoint: the New Language of Business, showing a 12-step method for creating clearer and more persuasive PowerPoint slides for boardroom presentations. Subscribe to this blog or join my LinkedIn group to get new posts sent to your inbox.