My new book Storytelling with Graphs is already flying off the shelves at Amazon, even eclipsing sales of my first book Speaking PowerPoint. Thanks to everyone who purchased a copy. I'm excited to see so many people interested in investing in how they drive change in business.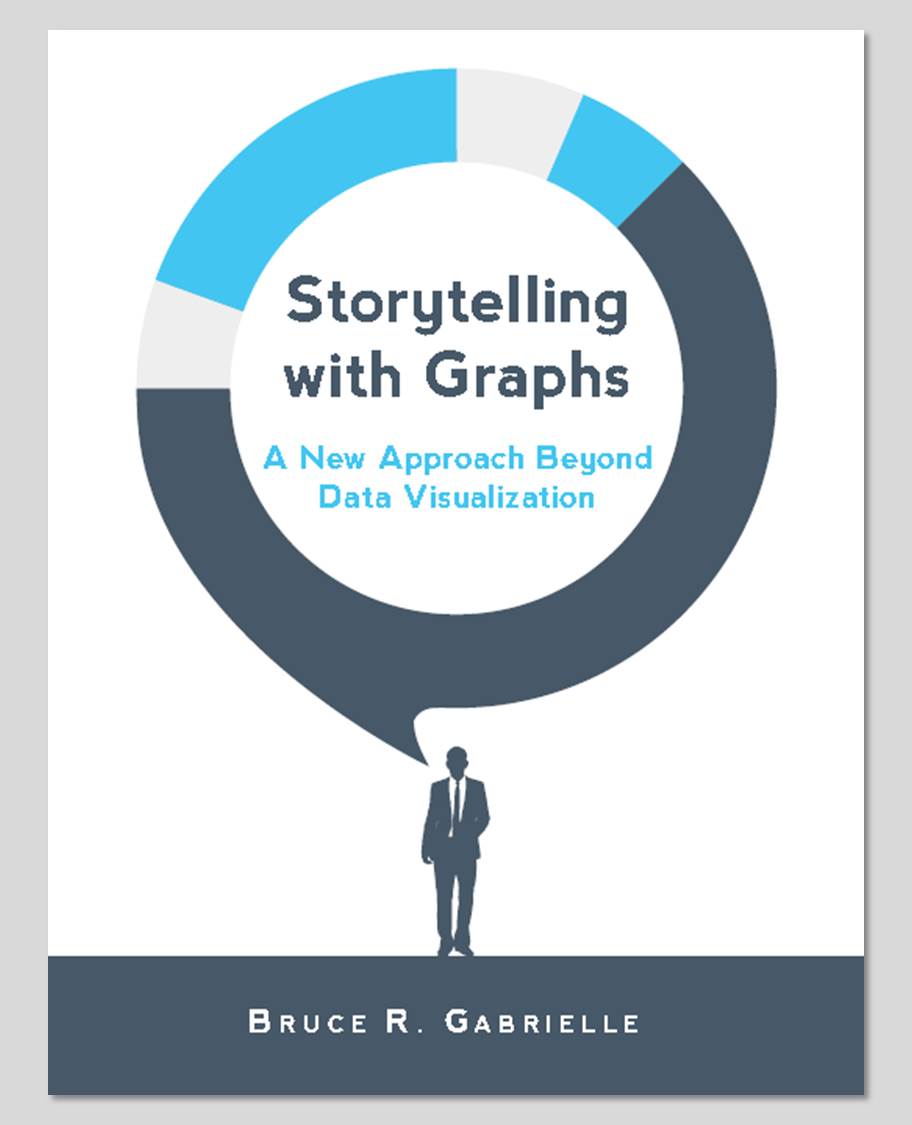 If you're wondering "what else is there to say about data visualization?" I invite you to read chapter 1 of Storytelling with Graphs.
In a nutshell: The pendulum is swinging away from data visualization toward telling stories with data. People don't look at data to compare two bars together. They want to sell products, advocate for change, inspire followers. Data visualization is fine if you don't care what your audience does after they look at the data. But if you want to move people to action, data alone is not enough.
I know this because I worked in business for 20 years driving marketing and strategy for technology companies, and then later running my own market research firm. Data often falls on deaf ears because the message is confusing. Or there is no message. Or it fails to motivate because it generates disagreement and debate instead of concern and urgency to act.
There's even a term for this: statistical numbing. Study after study finds data fails to touch audiences emotionally and fails to move them to action.
Data Visualization is Only Half the Battle
During the 1980's and 1990's there was a lot of research on which graphs most accurately encoded data, leading to conclusions like: bar charts are most accurate for comparisons, line charts for trends and pie charts for percentages. This is where data visualization begins and ends.
But in the 2000's, researchers began questioning if they were looking at this the right way. Do people use graphs in real life the way they do in a laboratory study?
In a laboratory study, we might ask participants to study a bar chart with 5 bars measuring how many beads of a certain color there are. But who are we fooling? Do these people care about these graphs? What will they do with this silly information about bead colors? Are these the kinds of simple graphs they are looking at in their work?
And so, in the 2000's researchers began observing how people study real graphs they use at work. In a 2008 paper by Trafton and Tricket — A New Model of Graph and Visualization Usage – they opened with: "We propose that current models of graph comprehension do not adequately capture how people use graphs and complex visualizations."
"…when an undergraduate is asked to extract specific information from a bar-graph, the [standard data visualization] process seems to hold. However, graph usage outside the laboratory is probably not simply a series of information extractions.
For example, when looking at a stock market graph, the goal may not be just to determine the current or past price of the stock, but perhaps to determine what the price of the stock will be sometime in the future. A weather forecaster looking at a meteorological visualization is frequently trying to predict what the weather will be in the future, as well as what the current visualization shows."
That is, we don't study data to determine some precise number. We want to use the data to predict the future and make decisions.
And what about when we want to use data to sell a product, start a movement or build a base of loyal followers? What do they need to see in a graph to be moved to action?
What do the data visualization experts have to say about that?
The Next Step Beyond Data Visualization
That's where storytelling comes in. And we're starting to see the breaking of a new dawn where storytelling and data are used together to not just accurately compare data, but to explain what is happening and what will happen next, and to hook into our emotions so the ideas say with us when the graphs are put away. Look at examples like Hans Rosling's TED talk on global health, or Al Gore's An Inconvenient Truth, or any of the animated graphs produced by the data journalists at the Economist.
Too much has been made of Edward Tufte and his dogma about how to "accurately" display data. Not enough has been made of how to use data to excite audiences, rally support for an idea, increase urgency around an issue and drive others to action.
That's where storytelling comes in
A lot of research has been done on storytelling. And I identified 50 examples of storytelling with graphs to confirm the well-researched principles actually work in practice. By studying these examples and extracting their key lessons, I can apply those principles to any graph to make sales presentations more persuasive, business recommendations more urgent and compelling, market research briefings more relevant and strategic.
Don't just show data. Draw conclusions. Share insights. Highlight problems. Surprise and move audiences by drawing them inside your data to surround them with meaning. Use story and data together.
Is this something you'd like to add to your business communications toolkit? Then get started by reading chapter 1 here. Then head over to Amazon and pick up your own copy of Storytelling with Graphs.