Learn to build simple and professional-looking PowerPoint slides when your content is complex.
Everyone in business uses PowerPoint. But most use it badly.
Is your goal to be more persuasive at work? To present complex ideas, graphs and diagrams simply and professionally? To use more storytelling principles in your business presentations to stand out from the crowd?
Then this is the course for you. Through these videos, I will show you a step-by-step method for creating business slides that are clearer, more convincing and more professional-looking. And best of all – you'll produce slides in half the time.
Here's an example of how your own slides will be improved. Which of these slides would YOU rather present?
[youtube=https://www.youtube.com/watch?v=7_47PDQgLuc]
Does it really matter? Yes, it does. Research finds bad slides CAN hurt your credibility and make you LESS persuasive than speaking without slides at all. If your job involves selling ideas to business audiences, especially when using supporting data, text and diagrams, bad slides can defeat your goals.
What does this course cover?
This course is based on the principles covered in Speaking PowerPoint: the New Language of Business. It covers the practical realities of building slides in a fast-paced work environment for a business audience. We cover:
1. Planning. How to develop a key message for your presentation, how to structure your presentation, how to organize your slides and what forms of evidence you need to show.
2. Slide Content. How to build a clear and convincing slide using slide title, text, pictures, animation and layout.
3. Design. How to use simple graphic design rules to make your slides look more attractive and enhance your credibility.
4. Graphs & Tables. How to "tell a story" using complex business data without overwhelming the audience.
Everything we cover is based on 40 years of research. This is not 'water-cooler' advice on how to build slides. This is an approach that is proven to make your message clearer, more convincing and more viral.
---
Who should take this course?
If you build complex slides for a business audience, this course was designed for you. Typical audiences include business managers, consultants and executives.
"Complex slides" includes slides with extensive text, graphs and diagrams like you might present to an executive audience. These may also be provided as handouts or read standalone at a computer screen. Typical presentations include:
market research results
strategic plans
financial results
status updates
Note: We do NOT cover these topics
simple graphically beautiful slides like you might see at a TED conference
sales presentations where the goal is to persuade using emotion instead of data
presentation skills
---
About the Instructor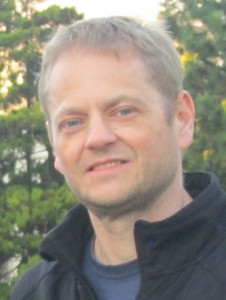 I'm Bruce Gabrielle, author of Speaking PowerPoint: the New Language of Business. This is the only book on PowerPoint written specifically for presenting complex information to a business audience.
I've worked in marketing and market research for 15 years and have worked extensively with PowerPoint for the past 10 years. Like you, I have seen many many examples of horrible PowerPoint slides. Filled with bullet points. Crammed with confusing graphs and diagrams. With garish colors and decorative effects.
There are many books on how to use PowerPoint but none aimed at business presenters. And so, I did my own research and developed a method that works, based on 40 years research in cognitive science, instructional design, information design and persuasive communications. The ideas are not difficult to master and they make a huge difference in how your audience reacts to you.
Today I consult with, and conduct full-day workshops for, Fortune 1000 companies, consulting firms, market research firms and other companies that need to present complex information to business audiences. Due to the demand for my training from individuals, I created Speaking PowerPoint Academy so you could have access to the same training available to the world's biggest brands.
---
What do you get in this course?
This online course is based on my full-day workshop conducted for Fortune 1000 companies, consulting firms, market research firms and business schools. But it has been customized for online learning, allowing you to skip materials that are too basic, dig deeper into topics that interest you and see dozens of how-to videos I cannot fit into a full-day workshop.
Over 4 hours of video tutorials which cover the concepts covered in my book Speaking PowerPoint: the New Language of Business
Bonus videos. Over 2 hours of how-to videos showing you time-saving tips and tricks
Practice assignments, so you can master each of the principles
Online community where you can post questions and get feedback directly from the instructor
---
Feedback from Students
I've conducted this workshop with hundreds of business managers, consultants, market research professionals, executives and students. And the principles work. Here are a few comments from previous students.
"I learned how to make PowerPoint work for me, not the other way around."
– Matt B, Microsoft
"I would absolutely recommend this workshop. The presenter was extremely knowledgeable and up-to-date with recent research being done in this area."
– Lisa C, Russell Investments
"The ideas offered in the session make you think 'Why AREN'T we doing presentations this way?'"
– Steven B, Microsoft
"The ideas covered in this workshop can easily save someone days or even weeks the next time you build a presentation."
– Sarah D, Prime 8 Consulting
"This is the most productive and practical presentation class I ever attended!"
– Val F, Microsoft
"I was able to use some of the concepts learned on the SAME DAY to vastly improve two decks I was preparing. That's effective training!"
– Steven H, Microsoft
---
100% Money-Back Guarantee
You have nothing to lose. Try the course for 7 days. If it's not what you expected, just let me know within 7 days of receiving your login credentials and I'll issue you a full refund.
---
Need More Information Before You Decide?
Just send me an email and I'll be glad to get back to you with answers to your questions. I hope you'll decide to enroll in Speaking PowerPoint Academy and start changing the way audiences react to your ideas.